Now, Honda Motor Company, Ltd. will also enter in to the small car segment market by launching Honda Brio. The Honda Brio will be expectedly launched in 2011 with a fuel efficient, refined and minuscule petrol engine. The Honda Brio car is also codenamed as CV2. The Brio has already been unveiled in the Delhi Auto Expo 2010 in January.
The Honda Brio will come with a three-cylinder 900 cc powered engine, a de-tuned version of the 1.2-litre engine that's on the Honda Jazz for providing higher fuel economy and to reduce production costs. The Brio may be featured with 1.2L petrol engine, a 5-speed manual and an automatic (CVT type) transmission option. City car of Honda boasts an innovative design with rear door handles fixed to the frame, as on the Chevrolet Beat. The name of Brio means 'the funny car' and 'small'.
The car will equipped a fuel efficient and refined engine in much smaller size. This engine will be also mated to a manual gearbox. Styling will be innovative as appeared on most of the Honda and a sedan based on the Brio will also observe the light of the day. Honda Brio's design is pretty similar to Chevrolet Beat that already existing and successful in the Indian market.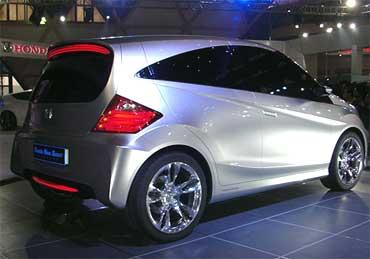 In India, other B-segment car market includes the Ford Figo, Chevrolet Beat, Volkswagen Polo and Nissan Micra that encourage universal players like Toyota and Honda to introduce new cars. So now Honda gets ready with the Brio, but till now the release dates have not been announced. It is expected that the car will firstly launch in Thailand in March 2011 and then turn it in India during the second term of 2011. The price of Brio will be around Rs.5 lakh in india.
You Might Also Like :